England come up against ambidextrous spinner Kamindu Mendis in Sri Lanka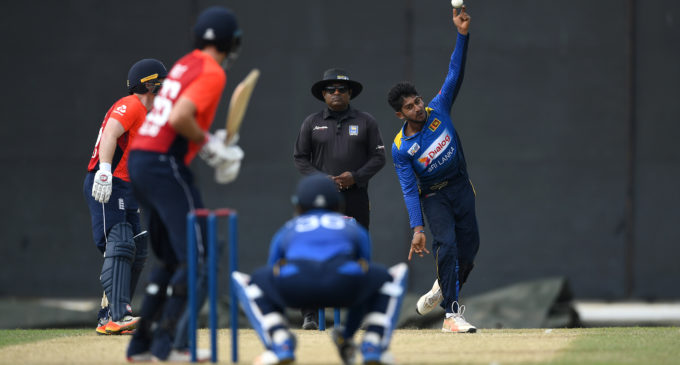 England should be ready for a show-down when they face Sri Lanka as he side has a special talent to watch out for. Kamindu Mendis is a name that will remain in the cricket world for a long time and we should be ready to hear his name more often. The 20 year old bowls with both arms.
The ambidextrous spinner Kamindu Mendis in Sri Lanka bowling with both hands have gathered lot of attention. Mendis bowled five right-arm off-breaks to the left-handed Eoin Morgan before switching to left-arm spin against the right-handed Joe Root in the 14th over of England's ODI warm-up win over a Sri Lankan Board XI, in which Morgan and Root stroked unbeaten nineties. This did not go unnoticed by the world as he has been gathering more attention for the Sri Lanka side.
If there is anyone that have followed the rising of the youngster will understand that he has been in the fray beckoning for limelight. The first time most noticed his ability was in the youth championship when LeoVegas Sport give fans opportunity to cash out of their passion.
His skills was so distinct among his pairs during the Under-19 World Cup when one YouTube clip garnered in excess of 430,000 views – continued to alternate throughout the innings depending on whether Morgan or Root was on strike, getting through eight overs for 37 runs to back up his quick-fire 61 with the bat in Colombo. This was enough for anyone to notice a gem in the game coming up right there.
When quizzed by Press Association, Mendis told them how he had aspirations of bowling for Sri Lanka and he was just 8 then.
"When I was eight years old, playing in the garden with my friends, I learned to bowl with both arms. Now I am comfortable with both and happy to do it in any match,"
"Root and Morgan knew what I was going to do, they didn't panic and are big-match players. They are two of the best I have bowled to. My aim is to play for Sri Lanka, I'll work hard for it."
When others were asked about his abilities one said, "I've never seen someone do that live but it's great and fantastic for the game," England spinner Moeen Ali said of Mendis. "It's amazing he was so accurate with both arms and really it will be the way cricket is going to go.
"You hear rumours about these guys being around but for him to bowl to that standard and be that good is fantastic. I've tried bowling left-arm but I was so bad! You just don't have that same feel."
The feeling in Sri Lanka now is that they are having a set of players for the future and knowing that Mendis is yet to make his full international debut and has not been included in Sri Lanka's squad for the ODI series against England, which starts in Dambulla on Wednesday, gives hope for the future of the country's cricket.
Similar to Mendis, Hashan Tillakaratne can also swtich from his preferred right hand to his less-favored left in a victory over Kenya during the 1996 World Cup.