English cricket is always looking out for the next great all-rounder, and in Ben Stokes they may well have found it. After spending a long time looking for the man to take over from Ian Botham as England's swashbuckling batsman and aggressive fast bowler, Andrew Flintoff fill the role to perfection during his colourful Test career. Following Freddie's retirement from international cricket in 2009, a number of players have come and gone as England have looked for their next great all-rounder, albeit one they hope isn't found floating out to sea in the middle of the night.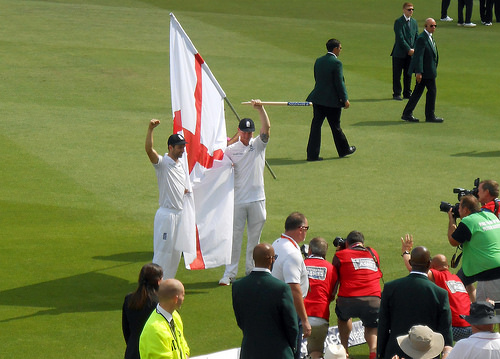 CC by DncnH
One of those players given the chance to establish himself in the Test side was Ben Stokes. While it took time for the big-hitting Durham star to adapt to life on the international stage, Stokes' role in the recent Ashes success has ensured English fans have a new all-rounder to really get behind. Having played a starring role in the encouraging Test and ODI series against New Zealand, Stokes was named in England's team for the opening match of this Ashes series in Cardiff. And it's fair to say it's a decision the selectors got right.
Following a strong start with the bat, recording scores of 52 and 42, the all-rounder hit a sensational 87 at Lord's before playing a crucial role in England reclaiming the urn by taking a gob-smacking catch off Stuart Broad in the first innings and collecting 6/36 as the Aussies collapsed in the second innings in Nottingham. As well as bringing some real power into the middle of the England batting order, an area that has been crucial to the hosts' victory in this series, Stokes has added plenty to the bowling line-up, and his six-for at Trent Bridge proved he has what it takes to be the fourth member of this pace attack.
This Ashes series has come as something of a shock to many who bet on cricket, and it's been England's young players who have perhaps been the difference between the two. As well as experienced heads James Anderson, Alastair Cook, Stuart Broad and Ian Bell all playing key roles, the performances of the team's younger players has been the real success story of England's summer. While Stokes has enhanced his reputation as a Test all-rounder, Joe Root climbed to the top of the batting rankings following a sensational series, with Mark Wood, Jonny Bairstow and Jos Buttler all doing their case for continued involvement with the squad no harm.
For Stokes, though, the battle is for him to now build on his Ashes success and really cement his place as England's all-rounder. With a number of players all vying for that number-six spot, the 24-year old knows he can't afford to let his performances slip just because he's played an important role in winning the Ashes. On the evidence of the past couple of months, though, England will be confident that they have an all-rounder in place who could be just what they've been looking for.